The Voices of the River Project by the Maria Fidelis Art Department - The Globe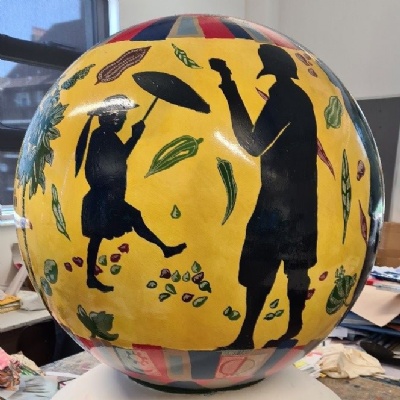 Sponsored by Phoenix Court working with Global Generation.
In the summer the School's Art Department was awarded a grant to participate in 'the World Reimagined' project. Their mission statement was: 'transforming how we understand the Transatlantic Trade in Enslaved Africans and its impact on all of us – so we can make racial justice a reality'.
'We wanted to produce a design that had positive messages. The Adrinka symbols at the base of the globe, were chosen represented love, resistance and endurance. The middle section was inspired by enslaved women who were forced to travel away from their home and hid seeds in their hair. Our third inspiration was the Gee's band Quiltmakers telling the tradition of story-telling and community.'
Miss Levin, Art Teacher Miss Caldecott Art Design Technician
Our globe is currently being exhibited in Holborn Library.
https://jod.theworldreimagined.org/trails/london/london:-camden---westminster/3