The Gospel Choir goes to the Park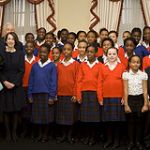 The Gospel choir went on a visit to Regent's Park last Monday (18th January 2010)........ by special invitation!!!!!!
The Maria Fidelis Convent School Gospel Choir were invited to the Park on Monday to perform at the U.S. Ambassador's residence, to mark the commemoration of the birthday of Dr Martin Luther King Jr (18 January).
This was the first time the occasion had been marked and the Choir members had an opportunity to meet the Ambassador and his wife, as well as actor, James Earl Jones and jazz trumpeter, Abram Wilson and quartet.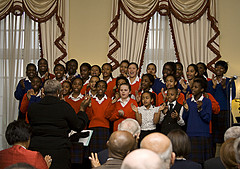 The Choir gave an amazing performance, inspiring spontaneous applause from an invited audience.
They were directed by Ms Karen Gibson and accompanied, on the occasion, by Ms Lyn Newell, Assistant Headteacher and Ms Karen Bernard.
This occasion is, perhaps, confirmation that the choir continues to go from strength to strength and that, indeed, it does have a lot to sing about.
So, 'WELL DONE' , continue to 'Sing for Joy' and make all of us here at Maria Fidelis, as well as your families, proud of your achievements.