Prizegiving Celebration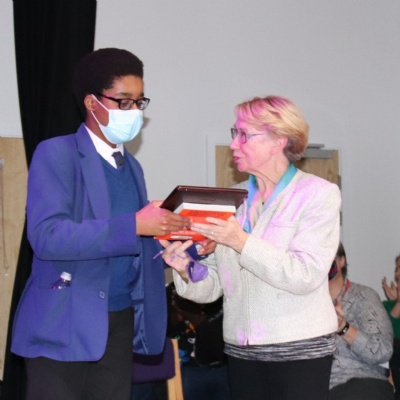 Kieron Bilomba receiving the Staff Award from Sr Brenda fcJ
We celebrated the success and achievement of many of our students at the evening's annual Prizegiving Ceremony. It was lovely to welcome parents and carers back into the school and it was a truly wonderful celebration of students' talent and effort.
We were pleased to welcome Sr Brenda fcJ and Sr Ellen fcJ, who attended on behalf of the fcJ sisters. We gave out more awards this year than we had in previous years, which is testament to how students and staff responded to the challenges posed by COVID-19 and the lockdown restrictions.
Many staff contributed to the evening's success, and particular thanks goes to the premises staff, who set up the event and made sure that everything was in place and on time, and to the Heads of Houses, who have worked hard over the last year to keep competitions and activities running for our students. Congratulations to Faber House on winning the Antlers for 2020-2021.