Journey with Pope Francis this Lent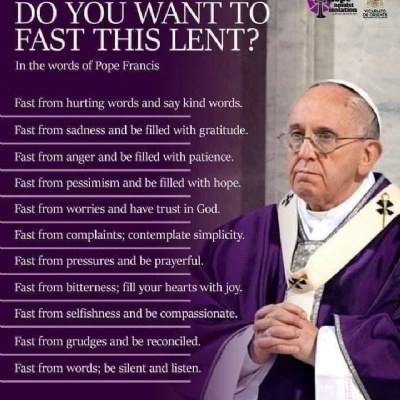 In his message for Lent this year, Pope Francis reminds us this is a time for renewing faith, hope and love, and explains what it means 'to experience Lent with love' in our difficult times.
Speaking of the Lenten obligations, the Pope writes that 'Fasting involves being freed from all that weighs us down – like consumerism or an excess of information, whether true or false – in order to open the doors of our hearts to the One who comes to us, poor in all things, yet "full of grace and truth" (Jn 1:14): the Son of God our Saviour.'
He acknowledges the present worldwide crisis: 'In these times of trouble, when everything seems fragile and uncertain, it may appear challenging to speak of hope. Yet Lent is precisely the season of hope, when we turn back to God who patiently continues to care for his creation which we have often mistreated (cf. Laudato Si', 32-33; 43-44).'
Please enter some content for your news story here.