Announcement of the 2015 London Living Wage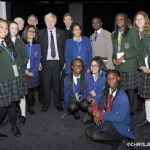 Boris Johnson announces new 2015 London Living wage rate at Google UK.
The Maria Fidelis London Citizens team were invited to the attend the announcement of the new 2015 London Living Wage rate at Google UK; who are an accredited Living Wage employer.
The announcement was made by Mayor of London, Boris Johnson on Monday 3rd November 2014. The 2015 London Living Wage rate has been set at £9.15.
For more information on the Living Wage, please click on the link to the Living Wage Foundation: http://www.livingwage.org.uk/news/new-2015-living-wage-rates-announced
Maria Fidelis is a proud and founding member of North London Citizens. If you would like more information on our work with London Citizens, please contact: Mrs R Harris, Business & Community Partnerships.