BBC School Choir of the Year 2010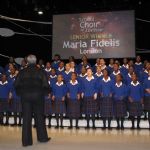 Maria Fidelis Convent School FCJ wins BBC Songs of Praise School Choir of the Year 2010
Maria Fidelis Convent School Gospel Choir is the Senior BBC Songs of Praise School Choir of the Year 2010.
On its first competitive outing Maria Fidelis Gospel Choir beat previous St Aidan's CE High School, Harrogate, a previous winner and Rugby School, a third time finalist, to win this prestigious competition.
The competition, which took place on 13th March at the Queen Elizabeth Hall, Southbank was screened on BBC1 on 18th April 2010. Choirs each sang a traditional hymn and a piece of inspirational music before a panel of judges including Howard Goodall, David Grant and Claire Sweeney.
Maria Fidelis Gospel Choir, led by Ms Karen Gibson and accompanied by Mr Emmanuel Waldron swept the judges away with its superb rendition of the traditional hymn, As the Deer pants for the Water with a moving solo by year 11 soprano Gloria Amponsah. The inspirational piece, Oh Mary O Martha, a spiritual, with a complex and technical arrangement by Ms Gibson, featured adlibs from altos, Mahalia Fontaine, year 11 and Courtney Lewin-Greaves of year 9.
The judges, in awarding the prize to Maria Fidelis praised the choir for its beautiful and soulful singing as well as its technical virtuosity.
Click here to see the evidence for youself.