Maria Fidelis Convent School Gospel Choir - A lot to sing about !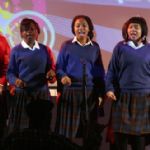 Maria Fidelis Convent School FCJ, Euston has reached the final of the BBC Songs of Praise School Choir Competition and so in the running for the title of School Choir of the Year 2010. On their first entry the school is one of the three finalists chosen for the senior section having been selected from the national pool of entries.
The Gospel choir has a had a very busy and successful term so far with many prestigious engagements where they have been great ambassadors for the school, the trustees - the Faithful Companions of Jesus (FcJs) and the diocese. Students at Maria Fidelis truly represent the Diocese of Westminser as Maria fidelis Convent School draws its pupils from all parts of the diocese. The choir is made up of girls from years 7 to 13 who belong to the Upper and Lower school choirs which run as part of the school's extracurricular programme and is managed by Ms Lyn Newell, Assistant Headteacher.
The highlight of the term has undoubtedly been winning a place on final for the BBC Songs of Praise School Choir of the Year Competition 2010. The television programme screened weekly on BBC1, features worship and praise throughout the United Kingdom and is screened in countries around the world! The entry involved two auditions, one audio and the other filmed, both of which were judged in order for the choir to progress to the next level of the competition. As one of the three finalists in the televised competition they will sing their hymn and inspirational song at the Queen Elizabeth Hall in London on the 13th and 14th March 2010. The programmes will be screened soon after.