Enrichment
Sixth Form trip to Berlin & Auschwitz (July 2019)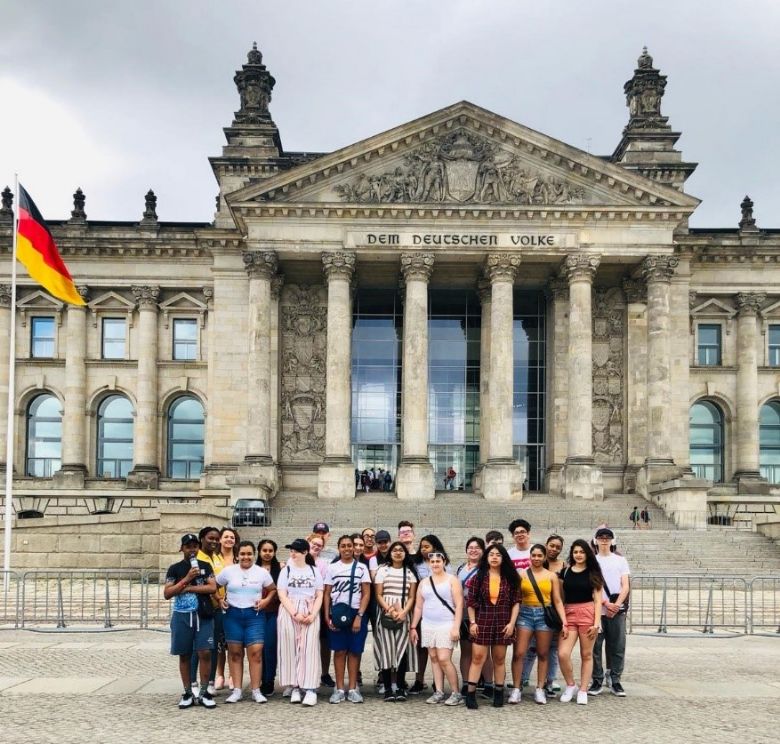 We took Sixth Form and Y10-11 students on a 4-day trip to Berlin and Kraków from 1st-4th July 2019. On our two days in Berlin we packed in lots of sightseeing: the Reichstag building, the Brandenburg Gate, the TV Tower, Checkpoint Charlie and the Holocaust Memorial. On Day 3 we travelled to Kraków, had a walking tour of the historic city before heading to Auschwitz on Day 4. This was a very humbling and moving experience for the students and one they will never forget.
For our two A-level German students, this trip was particularly valuable, especially to note the differences between East and West Berlin, which they are studying for the Writing paper in the form of the film 'Goodbye Lenin'. Reyah (Y13) wrote:
The trip to Berlin and Kraków was short but sweet. The fact that it was relatively short meant that there was no time to waste and each student that came along had to appreciate every piece of architecture they saw, every bite of food they took and every step they took on hallowed ground…before the moment was over!

After a very early start at Heathrow, we finally arrived in Berlin where we caught a glimpse into the very socialist life of East Germans, upon a trip to the DDR museum, in the heart of the 'Museumsinsel', which is a very important part of what makes Berlin. Following this, we took a walk through the city in the heat and admired the edifices of Berlin as we made our way to Checkpoint Charlie…another prized piece of history that shapes the city. The duration of our time in Berlin was spent sightseeing – we visited well-known tourist attractions like the Reichstag, the Brandenburger Tor and Alexanderplatz, where we spent 3 long hours enjoying the city, shopping for souvenirs and trying German delicacies like Currywurst and Berliners! One of the highlights of our time in Berlin was most definitely our ascension to the top of the Fernsehturm, where we fully got to appreciate the city in all its beauty and clearly see the effects of a key point in history – the east-west divide, through seeing the differences in the buildings of the city.

With a 6am start the following day, we slept our lives away along a bumpy highway on the coach to a whole new city. After 7 hours, we finally made it to the beautiful city of Kraków. We were greeted by a friendly tour guide who took us all around the city and showed us the key parts of the heritage there, such as the Wawel Castle and the Collegium Luridicum, whilst teaching some students Polish along the way. This was followed by a pleasant evening meal of traditional Polish food (tradycyjne polskie potrawy) back at the hotel. The next day, which was sadly the last day of the trip, was a very humbling day for most, with a trip to Auschwitz-Birkenau, the place where over 1 million people met their tragic death under Hitler. The aspects of the Auschwitz Museum really put into perspective just how spine-chilling this era of history was and how many people it truly affected. Although distressing, this part of the trip was definitely a once-in-a-lifetime experience! The afternoon was spent enjoying the city of Kraków, where some students decided to ride electric scooters through the town centre, whilst others preferred to spend some time by the lake and absorb the atmosphere…which brought us to the end of our time in Poland, and the end of a very enjoyable trip.
Other upcoming trips
On 16th October, 15 lucky students are going to Harrow School for a talk from Cherie Blair, wife of the former Prime Minister Tony Blair, who will talk about Women & Education. We are very excited for this!
We are taking a group of Sixth Form students to Amélie: The Musical at The Other Palace theatre on 17th December 2019. Tickets are £25 and can be purchased via ParentPay; letters are available from the Sixth Form office.
On 18th December, we are going to see a matinée performance of the famous Tchaikovsy ballet The Nutcracker in the Coliseum Theatre. Tickets are just £8 and can also be purchased via ParentPay; letters are available from the Sixth Form office.
Speakers for Schools high profile talks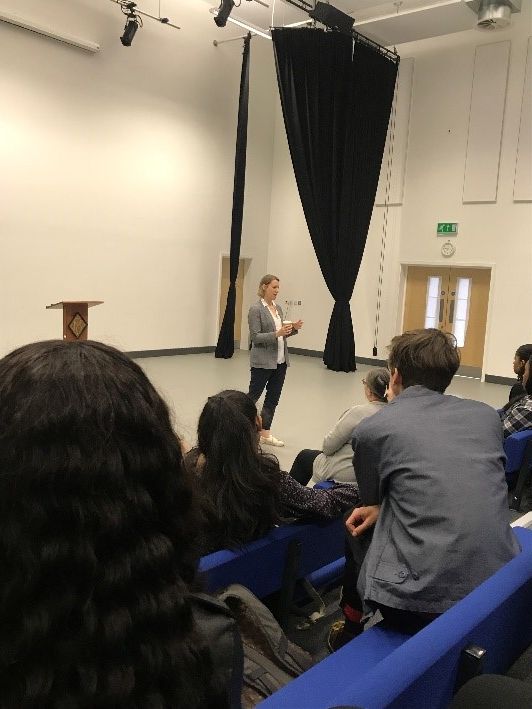 We also had a talk from the Rt. Hon. Lady Nichola Mendelsohn, CEO of Facebook in Europe, the Middle East & Africa, and "the most powerful woman in the British tech industry", according to the Daily Telegraph. She spoke about her career, and answered questions about her role in the Jewish community, in the Labour party and as a mum of four! She was inspiring and interesting and both Year 10 and Year 12 students were captivated.
Sixth Form Lecture Series
We launched this series in 2018 in order to broaden the students' minds and give them food for thought outside of their daily classroom studies. We had a vast range of prolific speakers who generously gave up their time to come and speak to us:
Pushpinder Saini QC delivered a fascinating and interactive talk on the Human Rights Act.

Professor Hugh Montgomery, Professor of Intensive Care at UCL, spoke to us about what climbing Mt Everest and other extreme activities does to the human body.

Dr Helen Glew from the University of Westminster spoke to us about the evolution of women's rights

Jess Wade spoke to us about getting women into science and how she creates a new Wikipedia page about female scientists every day.

Peter McDonough from Ted Baker spoke to us about the Death of the High Street and the impact of online retailers on our society.

Dan Kelly from Ted Baker launched a campaign about nut allergies via social media which went viral, and he explained how and why this came about.

We were even lucky enough to be visited by Sir Keir Starmer, Shadow Secretary for Brexit and MP for Holbon & St Pancras who faced some challenging questions from Sixth Form students amid the Conservative leadership election, including: "If the Labour Party were to have a leadership contest, would you put yourself forward and why?". We were very lucky to have Sir Keir talk to us.
Our lineup for this year will be published shortly, but we have one in the pipeline for budding doctors entitled 'So you want to be a medic?' It is hoped that this will provide students with the support and inside knowledge to prepare for this gruelling career path!
Model United Nations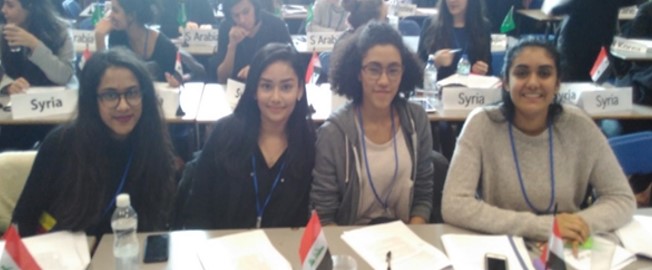 Model United Nations (MUN) is a weekly meeting society in which students simulate the debating that occurs at the United Nations. Students are assigned a specific country and then debate topics from that country's point of view, with the Security Council and the General Assembly being the most regularly simulated. We are delighted that Ms Gill is running this with our Sixth Form students, in conjunction with Westminster School.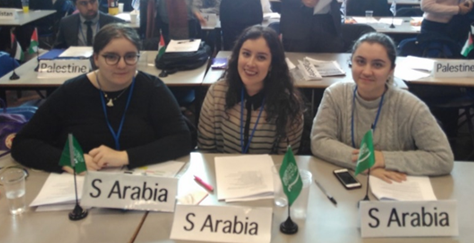 Film Club
We also run this informal Film Club to allow students to unwind after a busy week, which takes place on Fridays. Y12 student Eni is taking charge of this; details of the next film showing will be advertised around the school!
Games Club
Following popular demand, Miss Speller has recently purchased some good old-fashioned board games for students to use during their break and lunch, which has also encouraged students to get to know new people! We have also managed to persuade our Exams & Data Officer, Mr Harding, to run a chess club for those wishing to learn this intellectual yet stimulating game!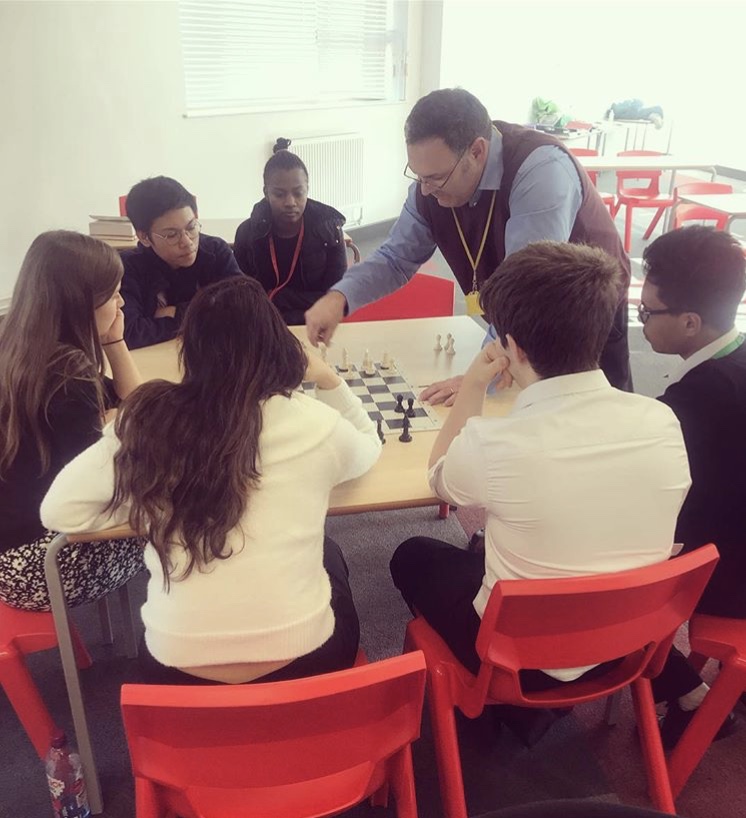 Sixth Form students are encouraged to consider what other enrichment activities they would like to have running - the Sixth Form team are always open to suggestions!