Sixth Form News
Open Evening
We will update information here in due course regarding a potential virtual Open Evening! Please get in touch, however, if you more specific questions (mfsixthform@gmail.com).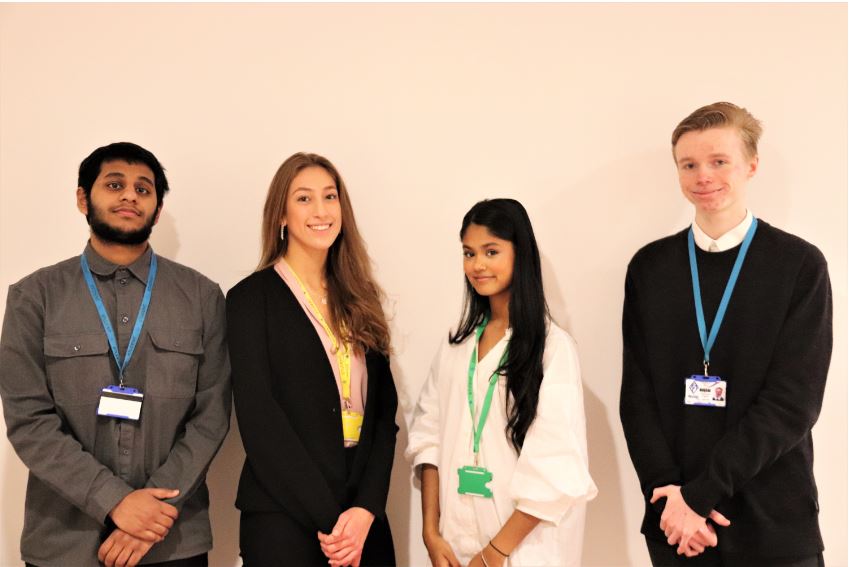 Stunning achievement for Deputy Head Girl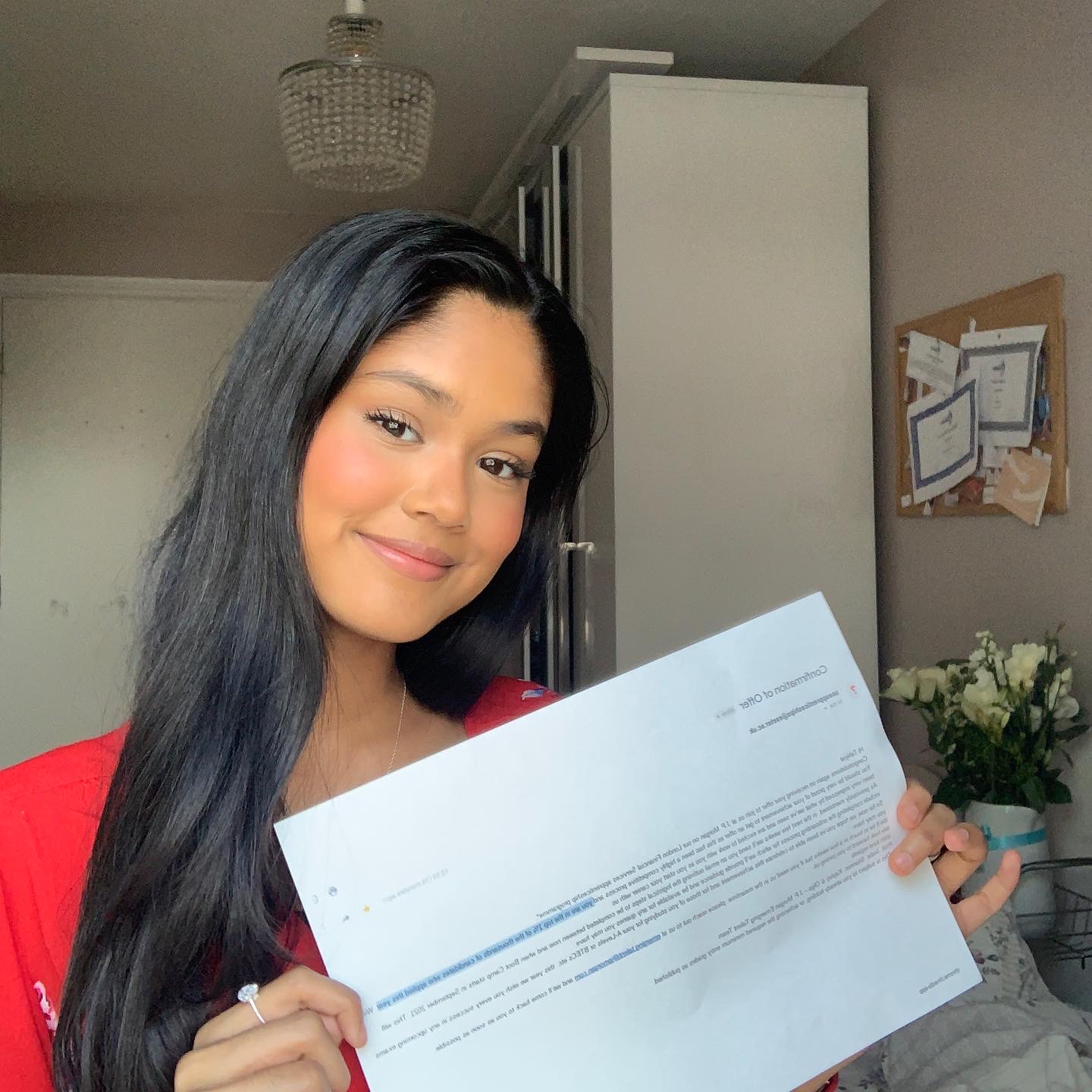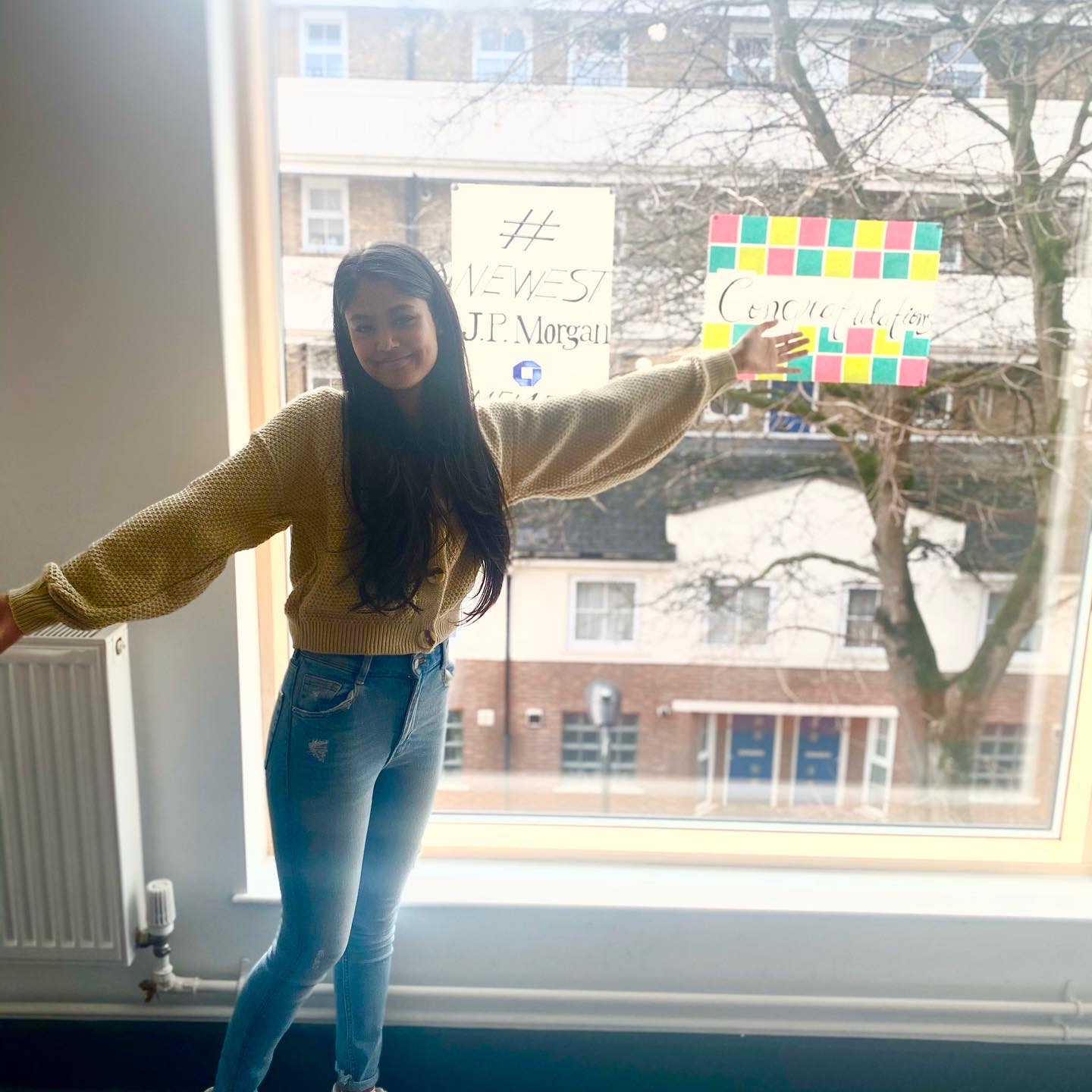 We are incredibly proud of Deputy Head Girl Tahi, who has successfully gained a place on the JP Morgan degree apprenticeship programme. There were 2,000 applicants, and she was one of 20 who successfully gained a place, which is an incredible achievement!
As well as training in investment management and receiving a salary, Tahi will gain a degree from the University of Exeter.
She said: "I'm delighted to have received an offer to become 1 of 20 JP Morgan apprentices whilst studying Finance with the University of Exeter. The news was so uplifting in such a difficult time. I feel so honoured to be in the top 1% of JP Morgan applicants and beyond excited to start in September!"
Giovanna made some posters for Tahi on Friday to congratulate her on her spectacular achievement!
Sixth Formers play instrumental role in brightening Christmas
Every Christmas for 7 years, Maria Fidelis has held a dinner & dance for local senior citizens. As this could not go ahead this year, we assembled hampers of goods and delivered them to our guests.
The Sixth Form were instrumental in this, tirelessly hand-wrapping over 150 boxes (inside and out!) in festive paper. These were then filled by staff in a production line, before they were sealed and tied by the Sixth Formers. The students also wrote all the cards,and then worked unbelievably hard delivering the hampers. Using their free periods, they went in pairs en masque to addresses all over London. They really showed us what it means to contribute to their community.
February 2020 - We were on the news! BBC London appearance for our Student Leadership Team's Smiles Campaign
We are over the moon that BBC London have featured our students' project on their Instagram, Facebook, YouTube and home pages, as well as featuring on the lunchtime news. Find out the story below:
Two students visit Auschwitz as part of the 'Lessons from Auschwitz' project
Tory and Meadow in Y12 were very lucky to be selected to attend the Lessons from Auschwitz project. Before a day trip to the infamous death camp, they had a day's workshop in which they explored themes surrounding the Holocaust. Meadow wrote us her account below:
My Auschwitz visit was a real eye-opener to say the least. I know it sounds cliché to say that the visit opened my eyes but in all honesty I've never really taken on-board the real consequences of what happened to these people. I am very grateful to the 'Lessons from Auschwitz' project for giving me the opportunity to visit this place where so many innocent lives were taken from this world, as I feel I gained a real connection to the individuals persecuted by the Nazis; not just the '6 million' that we hear of in the classroom.

From the outset, I felt the dark atmosphere surrounding us in the camp. The feeling of our footfalls on the stones being only the shadows of those who walked barefoot whilst their feet began to blister was traumatizing. I could only think of the mothers who could not help, let alone heal, their children and the elderly who could hardly walk as it was alongside the cuts on their feet with the Nazis pointing their guns and shouting for the herds to hurry up. We reached a point where in the distance I could see the entrance reading the words 'Arbeit Macht Frei' in English meaning 'work will set you free'; unfortunately, this could not be further from the truth and the further we walked I got the impression the further away from freedom we were getting. Ironically, we were just visiting and yet I felt like I was trapped in the walls separating man from man - after all we are all people. The exclusion from the general public was the stepping stone for the Nazis to turn a man into a beast but also another man into an animal, a scavenger that would do anything for a piece of bread. The separation between luxury and necessity turned into a very fine line between these walls and I almost felt guilty for eating my dinner that night and leaving that what I didn't want, as my scraps would've been another's treasure.

I feel very emotionally connected to the Holocaust since my visit and I've been really interested in finding out more. I'm currently reading a book called 'The Tattooist of Auschwitz' and watched a film called 'The Pianist'; it again reminded me of the individuals that were tragically a part of this monstrosity. The titles themselves show that these people could 'tattoo' and play the piano; they were humans and they walked and talked, got hungry and thirsty, celebrated birthdays and Christmas just like the rest of us with just one major difference; a huge majority of them died due to one man's anger and hatred. On the flip side, we must take into consideration the persecutors who were also humans with emotions. The persecutors alongside the persecuted were normal people with families and it's a thrilling thought that the same ingenuity and intellect that built these great trains that travelled from a wide spread of destinations in Europe, and those architects that designed these great buildings, when flipped on the side of evil, were able to create a train that people paid to get on into a camp of death (allegedly paying for their own death). The architects that built these gas chambers that killed hundreds of people within twenty minutes withheld the intelligence of creating buildings that people admire, yet they chose to use this intelligence for the good of evil. In this way, they are responsible, though not directly involved in persecuting the Jews; they are partly to blame for the death of mothers, brothers, grandparents etc. This experience was key in highlighting this for me because I never really thought of it this way, in the classroom we only learn about the Nazis and we haven't much time to think about all the others involved in the death of the Jews.

A survivor of the Holocaust, Elie Weisel, once said, 'To hear a witness, you are now a witness' and after hearing a testimony from Eve Kegler I feel as though it is now my duty to educate those on the lives of the Jews and not just the number but the individuals that left their glasses and keys behind that still remain behind the cabinet glass at the camp - and because of this, they will be remembered. I know it is impossible to remember 6 million people but what I ask is that you find the links between you and them and once you have, they will be remembered. For example, if you have a sister or a mother or a father you love dearly, you can find a link between yourself and the families who slept on wooden beds with a hunger far worse than an empty fridge and in this way they are being remembered. Leaving the camp, the cold chill that hit us in puffer jackets with our layers underneath was only a fraction of the snow/winds that killed these beaten people in stripped pyjamas.

The LFA project is so important and I highly recommend it as it inspires those to remember, after all 'those who do not remember the past are condemned to repeat it'.
Talk from Cherie Blair at Harrow School
By Mohammed Labib Miah
On the 16th October, we attended to a talk by Mrs Cherie Blair CBE QC at Harrow School. It was a fantastically enlightening and enriching experience where she discussed her passion for the topic 'Women and Education' to students across the whole of North London.

After hearing her wonderful words, I delved into the depths of modern and past inequality in women, how they are treated in their line of work today, and their virtual 'expulsion' from opportunities that men are 'more entitled' to even in modern day society; I was able to learn about the injustice that they faced, and face, on an academic and human scale.

Gently and gracefully, she discussed the notable achievements of various women from the 19th, 20th and 21st centuries, including the likes of Florence Nightingale and Ellen Johnson Sirleaf. Her impassioned speech called us to create change for how women should be treated by being given the same opportunities, particularly in the world of work but also in life in general, in a manner that was nothing less than inspiring.

Her talk was uplifting, and has encouraged me to learn more about topics and problems in the world such as these, which I hope will be improved in the future by the youth of today, so ably inspired by voices such as Mrs Blair's today.
Macmillan Coffee Morning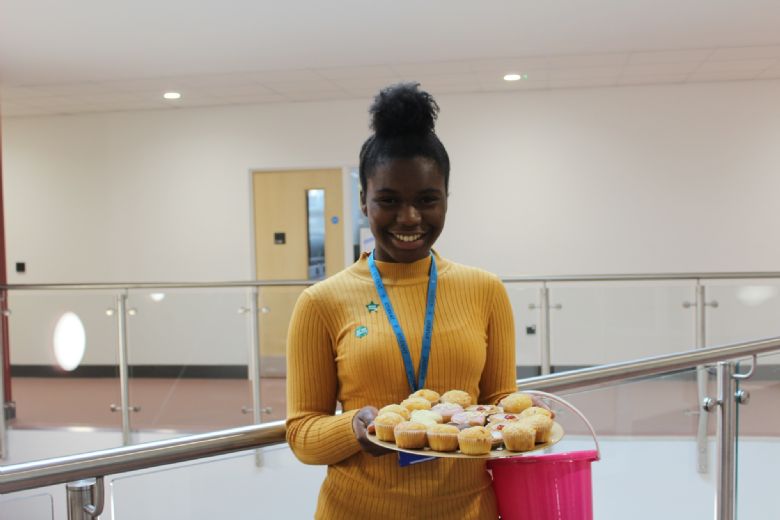 Y12 German students' scholarship to Germany